Blackwater In Baghdad: "It Was A Horror Movie"
New testimony
from witnesses and victims provides the most in-depth, harrowing account to date of the U.S. security firm's deadly rampage in Iraq.
But it's all water under the bridge as they've
exonerated themselves
.
"
For Khalaf, a 38-year-old Iraqi, Sept. 16 started like many other sunny summer workdays. He donned his police uniform -- a white shirt, navy trousers and hat -- and headed to Baghdad's busy Nissour Square. By 7 a.m. he was out in the street, directing the flow of traffic coming from the multi-laned Yarmouk access road into the square. When he spotted four large all-terrain vehicles with guns mounted on top, he did what he always did. He stopped traffic and cleared the area for what he knew, from the tell-tale sign of the two accompanying helicopters, to be a security firm's convoy.
At first, this seemed completely normal for the totally abnormal world of Baghdad in September 2007. "Convoys are common," explained Khalaf. But this convoy made an unexpected U-turn, drove the wrong way around the one-way square, stopped in the middle of it and started shooting. Fifteen minutes later, 17 Iraqi civilians were dead, dozens more wounded, and a white sedan that had been engulfed in flames contained two bodies charred beyond recognition.
"It was a horror movie," said Khalaf, describing the aftermath of the now notorious Blackwater shootings."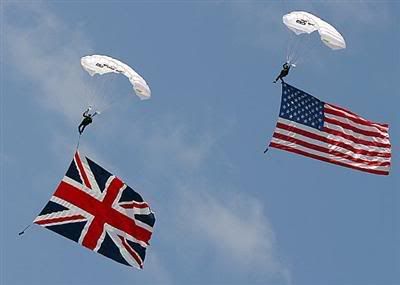 blackwater parachute team jumping
at the 2007 Naval Air Station Oceana Air Show
The video below is about the 2006 San Diego Fleet Week football game. Watch at around 3:00 as Blackwater shows how to respect the american flag. They next posture as an adjunct of the military and slime up a stadium on Dec.31 at the Armed Forces Bowl in Texas.