Last Summer, Did Israel Use It's War Against Lebanon To Get Rid Of Business Competition?
Say it ain't so. Using the pretext of cross border kidnappings to make money while it slaughtered Lebanese citizens and destroyed Lebanese infrastructure?
My goodness gracious me, and the
US hurriedly sent Israel 'emergency' munitions
to do so?
That, that can't be true.
Can it?
"
An Australian-Lebanese businessman that has recently returned from an investigative visit to Lebanon armed with a documentary film unit has evidence that indicates that many of the small and medium sized businesses that were hit by the Israel Air Force in Lebanon were deliberately targeted for reasons that seem to indicate that Israel wished to destroy, not so much the Lebanese industrial sector because it was in some way aiding Hizbollah efforts, but solely because they were a threat to Israeli commercial interests. In virtually all instances where businesses, particularly manufacturing businesses, were destroyed or badly damaged, there was no evidence to suggest that their destruction or damage was because of collateral damage due to them being close to any target that could have been construed as offensive to the Israelis."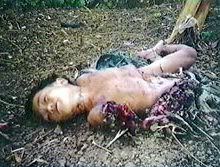 Fast forward to today.
US black ops in Lebanon?
How can you say that!
Elliot who?