Cattle Prod News
The groom got mad when the cops roughed up and arrested his elderly father.
Is there
anyone
the cops won't taser? Hopefully the whole thing was taped.
They're lucky the guests didn't tear them apart.
Cops taser newlyweds at their wedding reception
"
The Michigan wedding of Durango newlyweds Andy and Ania Somora came to an abrupt end last weekend after the bride and groom were tasered by local police and spent their wedding night in jail.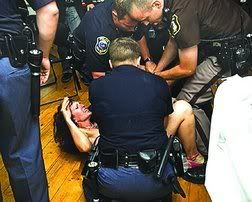 the happy bride
According to a news release from the Chikaming Township (Mich.) Police Department, Officer Jeff Enders responded Saturday to the Burnison Art Gallery in Lakeside, Mich., after gallery owner Judi Burnison asked for assistance with unruly guests at the Somoras' wedding reception.
(...)Enders told the assembled guests to leave, but many became upset, police said. Enders called for backup, and 14 law-enforcement agencies responded to help clear the crowd. Police said that many of the 100 guests left peacefully, but several continued to be disorderly and to swear at the officers.
However, eyewitness Kacpar Skowron, a professional Chicago photographer and friend of Ania Somora, said police overreacted and ruined a perfectly good wedding. "My perspective is that the main officer (Enders) handling it was cool at first, but then he started threatening that everybody would be arrested. But trying to kick the party out at 11:20 (p.m.) on a wedding night when we had a contract to be there? He was a big jerk," Skowron said.
Skowron said the crowd got particularly unruly after police handcuffed Andy Somora's father and put him in the back of a police cruiser. He said the elder Somora, whom he described as "a distinguished older gentleman," was trying to talk to Enders to defuse the situation.
"I didn't believe it, but I witnessed it. It was brutal, and that's when Andy got really mad," he said."