Students And Faculty Show Spine At Commencement
Former Bush aide Card is booed at UMass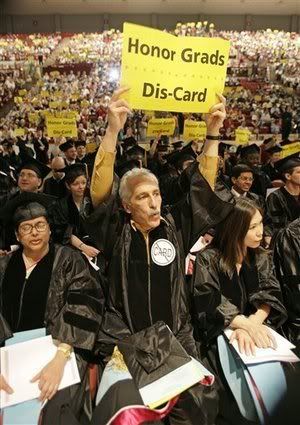 "AMHERST, Mass. -- President Bush's former chief of staff Andrew Card was loudly booed by hundreds of students and faculty members as he rose to accept an honorary degree at the University of Massachusetts on Friday.
The boos and catcalls - including those from faculty members who stood onstage with Card - drowned out Provost Charlena Seymour's remarks as she awarded the honorary doctorate in public service. Protesters claim Card lied to the American people in the early days of the Iraq war and should not have been honored at the graduate student commencement.
(...)
The protests were mainly contained to an area in the back of the campus arena, though many of the faculty members onstage joined the three- to four- minute outburst.
One faculty member onstage held a sign: "Card - no honor, no degree." Another sign said, "War criminals go home."
C&L has the video
as usual, the place turns into a madhouse at about 2:50.
"Sir, it's on. Dick says just sit there."
-------
Fear-Mongering and Fiction: Darth Cheney Sucks The Energy Out Of West Point Graduation
"In a subtle irony, the vice president last addressed graduating West Point cadets the very year the class of 2007 entered the academy, in 2003. It was close to a month after the president declared an end to major combat operations in Iraq and Cheney crowed that "the battle of Iraq was a major victory in the war on terror." At the time, two West Point graduates had been killed in Iraq. Since then an additional 49 tombstones have risen on West Point's campus, marking the graves of graduates who were killed in Iraq, fighting a war the vice president had previously assured them they'd already won."