Movies
It's been a good run of late. Of course I don't go to theaters, those crowded, noisy, expensive bird flu petri dishes. So I miss the first round of buzz, so what? I watch movies for the sheer pleasure of that particular film's experience, relaxing at home with Mrs. Lipstick. There's been a few missteps - some clunkers from my Blockbuster subscription and a few overblown releases like Flyboys and Flags Of Our Fathers. But there have been several lately that really were enjoyable for various reasons like The Illusionist, Jesus camp and Hollywoodland. And then there's
The Departed
.
Spielberg may be the most spurned director for his work but Martin Scorcese has to be the most criminally disregarded. Simply put, he's the most accomplished living movie director. For four decades he's made stunning pictures and has never won an oscar at the academy awards. His films are always on critics' short lists for best of the decade - Taxi Driver in the 70s, Raging Bull in the 80s, Goodfellas in the 90s. This year The Departed might end his dry run.
Being shot in and around Boston, it's a small step away from Scorcese's love affair with his home town New York. I'm from the east coast and I know the flavor of those cities; Scorcese captures the essence of Boston masterfully. It doesn't hurt that two of the principles in the movie hail from there - Matt Damon and Marky Mark Wahlberg. (I've got a demanding ear for east coast accents and while they fade in and out when they're there it's authentic. I'll even turn a flick off if an accent sucks. Everything fades as you wait for the next abomination to emanate from their piehole.)
I've always thought that you have to start with the casting and you can't ever hope to wind up with a good project if you don't fit the right people in. You can fling tons of money at it and be brilliant in all other areas but if a film is miscast it's going to fail. Similarly a good crew can salvage a mediocre picture. In this one Scorcese assembles a remarkable group of heavyweights where each actor alone has carried other flicks, somehow he gets them to work extraordinarily well together as an ensemble cast. The only one I wasn't familiar with was Vera Farmiga, who I could have sworn was Felicity Huffman minus about ten years: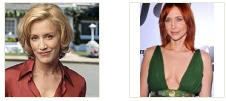 The plot and the action are well known - it's a loose remake of the chinese Hong Kong thriller Infernal affairs where a chess game is played out between a mob and the cops, with a mole for the other side in each group. (Tagline: Cops or Criminals. When you're facing a loaded gun, what's the difference) What sets this film apart from other crime dramas is that it's just damn good storytelling. Scorcese absolutely shines here, this is his movie through and through and by bringing his vast knowledge of the profession into play with his signature techniques it turns out to be a hugely pleasurable ride with a great soundtrack. Expect the unexpected too, when you watch this it's a game to figure out what the hell happens next. I had a good time with The Departed.
Then of course, there's
this
guy: