Depends on Who's Using the Stuff
When a Chemical Weapon is Not a Chemical Weapon
US War Crimes List Keeps Growing
"Pentagon, State Department and White House officials, after first denying that phosphorus was used at all in Fallujah, when caught in their lie, finally admitted using the weapon..."
More at
http://www.counterpunch.org/lindorff11262005.html
-------
Police in Miami announced today that they're going to take a proactive role in fighting the "terror" war. They're going to randomly check IDs, surround buildings and presumably strut about with intimidating sneers. "This is an in-your-face type of strategy. It's letting the terrorists know we are out there," deputy police chief Frank Fernandez said. "People are definitely going to notice it, we want that shock. We want that awe."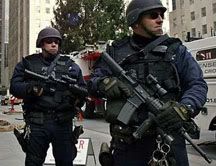 This is complete and utter bullshit. The "war on terror" is a gigantic fucking lie, nothing less than an agenda to eradicate rights and exert total control. It's as real as the decades long "war on drugs" which cost hundreds of billions and ruined countless lies. And the result? The country is awash in hard drugs and people are more and more used to heavy handed police presence.
Frisking Grandma and roadblocks and bringing snarling dogs on buses and being forced to present identification will not make us safer from terrorists. That's because the forces doing all that are the terrorists themselves.
Welcome to fascism. There is no other other description for giving police forces carte blanche to intimidate citizens going about their business. Police across the country have slowly been militarized to the point where they're indistinguishable from military units, and their tactics have changed accordingly.
Also -
Fascism Then. Fascism Now?
"
Huey Long, one of America's most brilliant and most corrupt politicians, was once asked if America would ever see fascism. "Yes," he replied, "but we will call it anti-fascism."
http://www.commondreams.org/views05/1128-24.htm