Death Squads R Us
Fun and games El Salvador style is back in vogue, ala Billmon-
http://billmon.org/archives/002340.html
The "mission" in Iraq was supposedly to rid the world of a vicious tyrant, his extensive supply of WMDs and set up a democracy where fresh breezes blew and smiles came naturally.
That goal seems to have been shelved for plan B, where an enormous security force and extensive prison complex has been set up, in part using many of Saddam's thugs and goons. From the UK Timesonline this past summer:
"In their haste to put police on the streets to counter the brutal insurgency, Iraqi and US authorities have enlisted men trained under Saddam Hussein's regime and versed in torture and abuse, the officials told The Times. They said that recruits were also being drawn from the ranks of outlawed Shia militias."
Truthout reported on this almost a year ago -
http://www.truthout.org/docs_05/010905V.shtml
"Death squads" have always been useful to authoritarian regimes from Vietnam (the CIA Phoenix program) to Chile to the Nazis to Iraq. They were extensively used in El Salvador in the 80's where members of the U.S. military and the CIA helped organize, train, and fund death squad activity. The most infamous incident was the rape and murder of the Maryknoll sisters: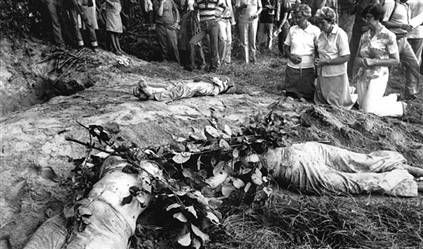 John Negroponte was the US ambassador to Honduras in the 80s. He helped set up the Contras and their illegal aid pipeline and oversaw the formation of death squads in El Salvador that unleashed a holocaust on countless innocent people. (just google Battalion 316)
Until february of this year he was ambassador to Iraq, ostensibly bringing his talents to that remarkably successful invasion and occupation.
John Negroponte is now National Intelligence Director in this country.