Three Black Tuesday Stories
We here at Piglipstick central are pretty average. A lot like other people, except perhaps with a bit more curiosity and doggedness. On 9/11 we were as shocked and astonished as everybody else by the events that day. But it only took about 2 hours into that hideous scenario to realize that the official story was not just curious, but
unbelievable
. Over 4 years of research has shown that the official story is the biggest conspiracy of all. One. Huge. Lie.
Here are some interesting, if little known things to ponder:
Most people realize that the Department of Defense wastes money on a brobdingnagian scale. Fewer people know that the pentagon has
lost
more than 2.3 trillion dollars
. Very few people know that this revelation was broadcast to the world in a speech by Von Rumsfeld himself at the pentagon on 9/10/01. Of course, the events the next day buried that little remark (which can be found here -
http://www.defenselink.mil/speeches/2001/s20010910-secdef.html.
Sort of like how the scumbags bury inconvenient factoids by releasing them on friday nights, ensuring that by monday morning they'll be old news and forgotten.
Sort of like how they waited until september '02 to launch their propaganda offensive about Iraq, and when questioned about their sense of timing, WH chief of staff Andrew Card famously quipped "From a marketing point of view, you don't introduce new products in August.''
http://archives.cnn.com/2002/ALLPOLITICS/09/12/schneider.iraq/
-------
A lot of the families who lost loved ones that day are very active in trying to get at the truth. Hundreds of them are outspoken critics of the administration with the notable exception of a certain group - the airline victims' families. Aside from one woman, a lady named Ellen Mariani (
http://www.whatsmells.com/mariani.html
) The airline victims' families have been quiet as church mice about all the lies and coverups. Why?
-------
On 9/11/05 Bush was at Booker Elementary and was infamously reading about goats with the children when Card interrupted and whispered something in his ear.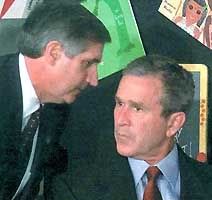 From that moment on we know that everyone there had knowledge of what was transpiring.
Question - If the schedule for that photo op was public for days, there were an unknown number of hijacked airliners crashing into buildings around the country, Bush stayed there in a vulnerable location, and the Secret Service is tasked with whisking him away at the slightest hint of risk, why did they allow him to just sit there?
Only possible answer - they knew he wasn't at risk.
You do the math.