Peddling Bunko Merchandise
McCain campaign keeps Palin under wraps
"Asked about her refusal to turn over e-mails to an Alaska investigator, Republican vice presidential candidate Sarah Palin looked up, smiled — and then stepped wordlessly into her waiting car.
Four days after leaving Alaska for her first solo campaign trip, Palin's hallmark is a disciplined adherence to a sparse public schedule. Appearances are few, interviews with the news media fewer still, and unscripted moments nonexistent.
She is frequently feisty in front of an audience, including Monday evening when she drew cheers as she laid into "far-East Coast politicians" who don't understand the need for control of coyotes or other predators. Or when her introduction of husband Todd as "first dude" evoked a few wolf whistles at a fundraiser.
But by the campaign's design, the self-described pitbull with lipstick, a history-making vice presidential candidate who has helped reshape the race for the White House, doesn't freelance."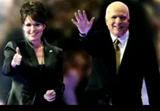 Caribou Barbie joins in the piglipstick fun
This effort to cloister Palin from the public is pretty damn obvious in it's intent. The whole McMilf campaign is a con job, selling an egregiously flawed product through manipulation and deceit, a public relations snow job. You and I are just as qualified to run as vice president, the effort is on to make us think this trailer trash poser is somehow remarkable and special. They have to rebrand this Bushista sycophant as a crusading reformer and so they need to keep her phony ass in seclusion until they can make sure she won't blow her cover in public. Apparently her handlers hope this manipulated peekaboo act will create more anticipation and buzz but reality is intruding on their machinations.
And I've got to ask a question. What the hell is Rense doing posting a bunch of links to very questionable sites endorsing Moosalini as a crusading victim of unjustified slander? Normally I can overlook some oddball intimations at an otherwise excellent and broad minded site but day after day there are links to pro Palin garbage and it's perplexing me.