Submit Or We'll Cook You
US military wants use of heat ray torture device
"
American commanders in Iraq are urging Pentagon chiefs to authorise the deployment of newly-developed heat wave guns to disperse angry crowds or violent rioters
."
Sheepish spokesflacks know how this bizarre garbage makes them look which is why they're very much concerned about "catapulting the propaganda".
"
With brand new technology like this, perception is everything," said Col Kirk Hymes, a former Marine artillery officer who heads the directorate
."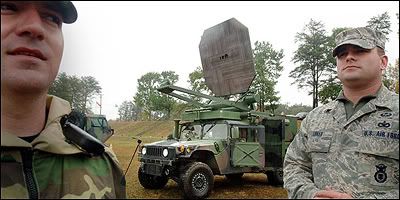 boys with their toys