Moms! Dads! You Too Can Be Fascists!
With the
Teen Safe Driver
Monitoring Device!
"
The Teen Safe Driver Program uses a small device placed behind the rearview mirror of your teen's vehicle. It captures the view out the front, and into the interior, of the vehicle but never saves any data UNLESS activated by an erratic vehicle movement – extreme braking, cornering, and acceleration or if there is a collision
."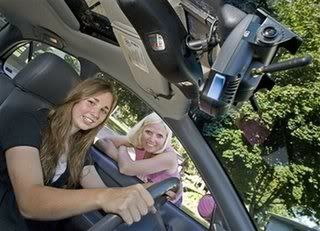 The monitor looks like it could be an obstruction that just might help cause an accident. And won't it be comforting for Buffy or Trevor to know that Mom and Dad will be right there with them when they're rocking in the back seat of the Lexus.