MSM Is Lying Again, What Gives?
Just like the fact that Ron Paul supposedly has barely 2% support yet consistently gets poll results that crush everyone else like this one at CNBC which was
removed
because they didn't like the results: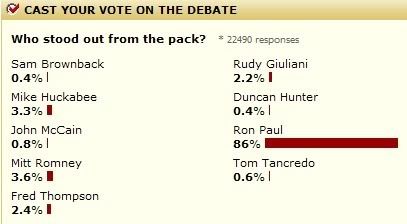 Or the "
news report
" that that Wisconsin off duty cop
shot himself in the head three times,
that "Australian earthquake" that supposedly happened two days ago on October 9 doesn't seem to exist in this time/space continuum.
4.8 earthquake shakes parts of Western Australia
"It is the strongest quake to have hit the south of WA in 40 years."
ABC Radio Australia
"GeoScience Australia's duty seismologist, Spiro Spiliopoulos, says it is the largest quake to hit the Great Southern in decades."
Hmm, this is the
current USGS earthquake map
of the region: