That Bionic Woman, Paranoia Inducing "Device"
"
Star Simpson, a 19-year-old MIT student, was arrested at gunpoint Friday morning at Boston's Logan Airport when officers suspected that a circuit board and battery she had pinned to her sweatshirt was a bomb. Indeed, every news outlet is now referring to the thing as a "fake bomb," and Simpson has been charged with possessing a "hoax device
."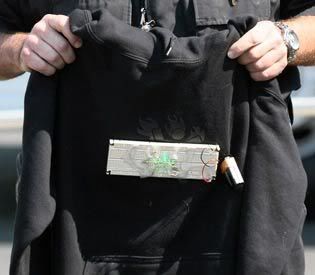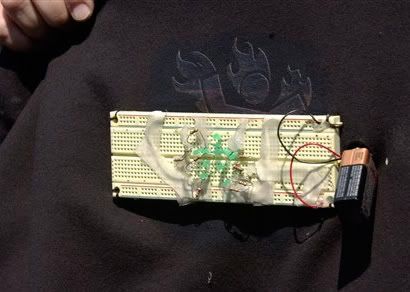 "
She's extremely lucky she followed the instructions or deadly force would have been used," Pare told The Associated Press. "And she's lucky to be in a cell as opposed to the morgue
."
Better watch out when you wear those lit up Xmas ties this holiday season.
But here's one sidebar to this asinine story that I noticed yet one more time. It's getting sickening how purveyors of fear are dredging up the memory of the people who were killed on 9/11 and hitting others over the head with it. And notice something very important -
the people who are admonished are people who won't buy into the fearmongering.
Here's the money quote
from this incident:
"Added East Boston City Councilor Sal LaMattina, "It's a slap in the face to all of the victims of the 9/11 terror attacks."