Orphaned Explosion Cancelled Again
"
The pentagon on Thursday canceled plans to detonate a 700-tonne explosive charge in the Nevada desert that had drawn environmental protests and lawsuits. Dubbed "
Divine Strake
," the test was designed to gather data for use in developing weapons capable of destroying deeply buried bunkers containing chemical, biological or nuclear weapons."
The 1.4 million pound explosion was first supposed to be touched off in Nevada last June, then scheduled for southern Indiana and now scrubbed again in Nevada.
At the Yahoo site they suggest a much better place to use it -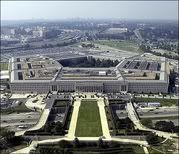 -------
Strake: noun - action taken to impress the terminally stupid