Bush Approval Directly Tied To Gas Prices
Forget about the carnage in Afghanistan and Iraq, forget about our constitution being used as toilet paper, that our fascists pulled off 9/11, the disintegration of our infrastructure, that we've been transformed into a police state. All that stuff may be true but the overriding concern for most people is how much they spend on gasoline. And that seems to be directly related to how
favorably they view Bush.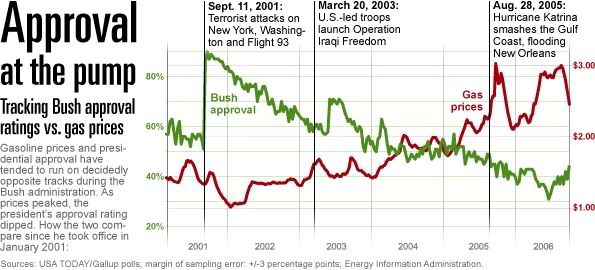 Look at the spikes and dips in gas prices and the corresponding reverse direction of Sockpuppet's approval rating a short time later. I've seen graphs comparing approval to other things but this, if it's correct, matches much closer. The general consensus that people vote with their wallets seems to be true.
What this means is that manipulating the price per gallon can influence how voters approach elections. Electoral outcomes are now almost totally predetermined since
rigging the computerized vote count is child's play.
Our overlords have any number of ways to fix the vote count. The task before them is to make it seem like there's a close contest that could swing either way, so when some races end in unexpected wins it appears more legitimate. Expect the price of gas to drop even further before November, toss in some Osama tapes, mix with a
false flag lollapalooza
and Voila!
The murderous scumbags aren't going anywhere.