Arguing for Depravity
Alternet has a
video of Sockpuppet's press conference
where he incoherently demanded to rewrite rules of human behavior. He appeared to be in a cocktail haze of drugs - some speed to get his mojo going, some tranks and a little of his usual psycho meds.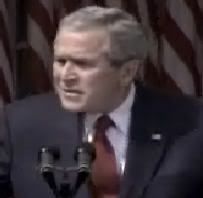 Here's the comment I left there:
"What a shocking display of mental instability and sick projection. This unbalanced man-child fronts the most despicable cabal of twisted sociopaths the world has ever seen. When this flailing imbecile talks about "they're comin' again" he means the next phoney Al Qaeda synthetic terror attack that his boys are going to pull on us. It's as transparent to me as the idiotic attempt to convince us that he read Camus."
The Rude One chimed in on the same sorry spectacle.
From his website
:
"We're in the midst of one of the most degrading debates in the history of the nation. Our goddamned President just spent the better part of an hour in a press conference
today
whining like a little bitch in the rain about losing his favorite squeaky toy.
(...)
The most frightening aspect of the press conference was not the sight of the ostensible leader of the "free" world screeching and jabbing like chicken that got into the meth stash. No, it was Bush's insistence that captured American soldiers are just a "hypothetical." Pressed by David Gregory on whether he could abide another country saying it was interpreting the Geneva Conventions however it wanted when it came to treatment of a hypothetical American, Bush simply said that it was okay by him if it was like what he wants: "I am saying that I would hope that they would adopt the same standards we adopt." GI, get ready for your waterboarding."
I dunno, maybe Precious Leader should hire a translator to help get his message across -