Gaping Through The Windshield #2
My nostalgic romp through memories of fantastic vehicle trips that I highly recommend before gas prices trap us at home.
In no particular order.
North off road loop
, Capitol Reef National Park
Most people drive blithely through this park on route 24, possibly stopping at the visitor center, and gawk at the towering sandstone cliffs by the side of the road. Few realize that this best kept secret of the National Park system has two magnificent off road loops, north and south, that take you through hallucenogenic scenery that will astound you.
Don't let "off road" deter, the only thing to be concerned about is fording the Fremont River which is most always barely a trickle. Any high clearance vehicle will do it with ease. South loop is nice too, car accessible.
Highway 101
, Oregon and California
My most delicious motorcycle ride was along 101 on a bright, clear spring day when the ocean was brilliant blue and I breathed in the salty sea air. I swooned like a little girl at a Justin Bieber show.
Shafer Canyon trail
, Canyonlands
Fasten your seatbelt and take some dramamine. This is a drastically vertical (to say the least) and narrow old mining path that you take from the Canyonlands visitor center area down 1500 feet or so to the next mesa level above the Colorado River. From there you can explore around or exit back to Moab past the
potash evaporation ponds
.
When my wife and I went down she was a shattered, sobbing wreck until we got level. This is truly a thrill ride not for the faint of heart and once you start there's no turning back. But I guarantee you'll never regret doing it. As long as your brakes don't fail.
yes that's the "road", and yes that's where you go, way down there
Between Durango and Silverton
, Colorado
Take a deep drink of the Rocky Mountains. There's two ways of doing this - one is to drive, the other is to take the narrow gauge steam train, depending on what you want to do. The
train ride
is a lot more scenic and historic, puffing through the San Juans along the Animas River, but if you drive you can spend time looking around high altitude Silverton and maybe dawdle
at the brewery,
or take off and hike through the magnificence.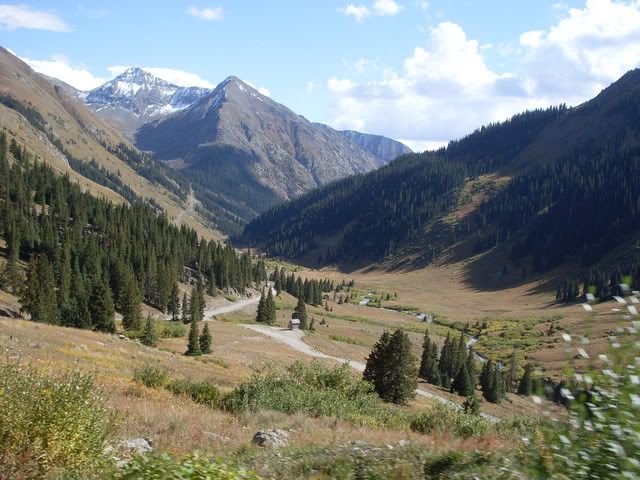 Columbia River Gorge
Around twenty thousand years ago during the ice age, there was a huge body of glacier melt in western Montana called Lake Missoula. It was bracketed by ice dams. Periodically those dams failed and a volume of water comparable to a Great Lake blasted across eastern Washington forming
scablands
.
All this liquid ran into the Columbia River Gorge so suddenly that it gouged the system and backed up feeder systems for a hundred miles. Some of the greatest floods in earth's history. They also sculpted the gorge into the beautiful scenery we have today. A more picturesque drive can scarcely be imagined (if you aren't a Portland commuter).
Do
not
miss Multnomah Falls, my picture.