Gaping Through The Windshield, Open Mouthed
As The Golden Age of motoring comes to a grinding halt with gas prices going through the roof, I thought I'd reminisce about drives I've taken that knocked my socks off. The memories are indelibly etched in granite in my mind. If you live anywhere near these places you really should do yourself a gigantic favor and invest in car trips of a lifetime.
In no particular order.
Mckenzie Pass Highway
, Oregon 242 between Sisters and Springfield
This road from the Mckenzie River valley over to Bend goes up into the Cascades and passes through immense lava fields from volcanic eruptions. It's closed most of the year due to snow. Be sure to stop at the observatory at the summit.
Chesapeake Bay Bridge-Tunnel
The longest bridge you will ever drive. 23 miles that dips down into tunnels at man made islands so boats can pass overhead.

Going-To-The-Sun Road
, Glacier National Park
It was a project of the CCC during the FDR years that climbs over the continental divide, bisecting the park. Stop at the top and hike along North America's spine.
If you don't want to drive your vehicle you can take one of the park's
Red Bus tours
.
Waterfalls and wildflowers throughout the entire summer season.
Highway 12
, southern Utah
Make sure that you're a passenger on this one because the scenery is non stop jaw droppingly awesome. In my opinion this entire swath of southern Utah should be a treasured national park, The areas between Bryce and Capitol Reef would be designated parkland anywhere else in the country. Here it's gorgeous country to motor through.
Drive along what's known as the Hogsback with thousand foot drops on both sides and you come to this sign at a wayside:
Titus Canyon
, Death Valley National Park
From
NPS.gov
- "Titus Canyon has it all—rugged mountains, colorful rock formations, a ghost town, petroglyphs, wildlife, rare plants and spectacular canyon narrows as a grand finale."
Zion Valley
, Zion National Park
A few years ago some of the national parks, including Zion and Bryce, barred all tourist traffic and instituted
bus shuttle systems
to cut down on congestion and pollution. It's not as touristy as it sounds - serious climbers and through hikers take them to drop off points. My wife and I were in Zion before that happened and after they did it. The difference was astounding. The exhaust, the crowding, the noise all disappeared. Busses arrive and depart from all the main attractions up and down the valley every 15 minutes or so and it's free.
Want to go on a bicycle ride of a lifetime? Put your bike on the front of a bus and take it to the top of the canyon and pedal alongside the Virgin River back to the campgrounds. No windshield with this one, just a quiet, serene glide through deep canyon paradise. Watch for the giant
hummingbird moths
.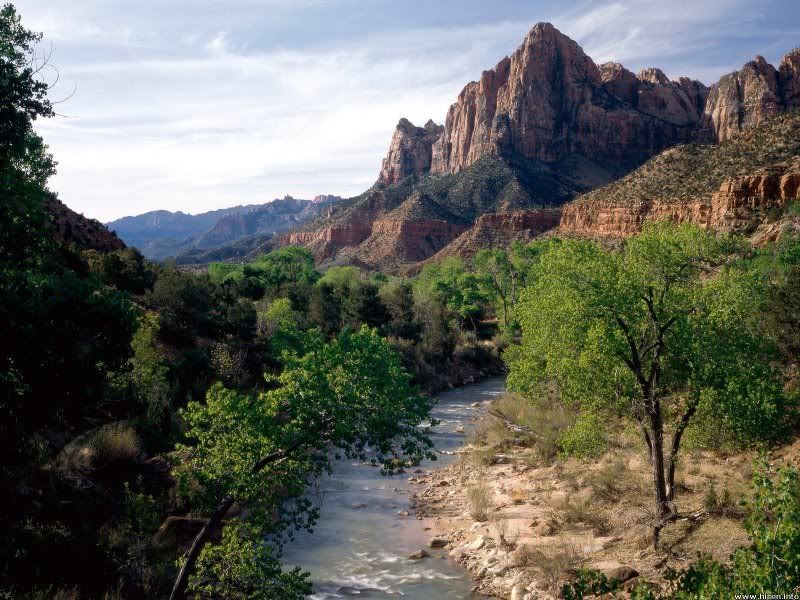 Glacier viewpoint
,Yosemite
All right, so this one entails a several hundred yard walk to the overlook after driving up out of Yosemite valley, but I included this one because it simply is the most astounding view you will ever take in. This is my picture.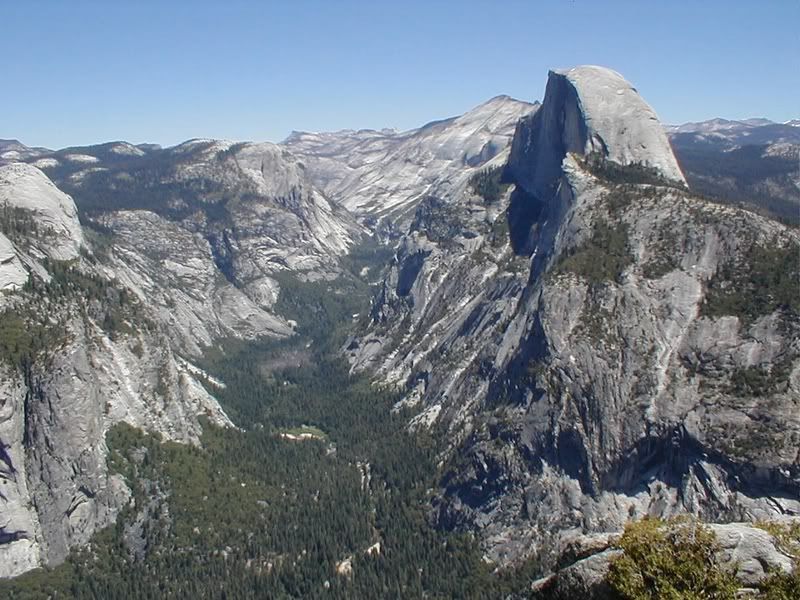 I could go on but these few are all great places. If you have suggestions I'd love to hear about them.