The Bus Tour That Isn't
"Sarah Palin is flying around the country on Billy Graham's aircraft. Graham's people have blocked aircraft tracking data so this fact will remain hidden.
Last weekend, a small notice in local newspapers revealed that Sarah Palin had stopped off in Montreat, NC, to visit the Graham family -- "evangelist" Billy Graham and his (reformed) cokehead son, Franklin Graham.
Franklin spent several years snorting coke, screwing everything in a skirt, and generally behaving like a good christian boy. Then, broke, he realized that his father's "evangelistic enterprise" was a real money-maker. So, ol' Franklin got religion, got forgiven, got saved, and GLORY HALLELUJAH -- Franklin is now the head of the Graham family business and the fortune of zillions of $$$$$.
Franklin runs an organization called "The Samaritan's Purse." Purse claims on their website to be an "International Christian relief and evangelism organization that provides spiritual and physical aid to victims of war, poverty, natural disaster, and disease."
Right.
Of course, an "international christian relief organization" can't function without a fleet of corporate airplanes.
And that brings us to Sarah Palin.
In her book tour, Palin claims that she's just like the rest of us, riding her tour bus from town to town.
BULLSHIT.
Samaritan's Purse is flying Sarah around in one of its aircraft. She lands near her next book rally, gets on the bus, and rides into town on the bus.
Palin is flying around in a Beechcraft/King Air 300tail number N262SP (multi-engine, 11 passengers). The SP does not stand for Sarah Palin -- the plane is owned by Samaritans Purse.
This means that donations to SP are being used to haul Palin's carcass around. Wonder what the donors think of that?
Hmmm. Does this violate Samaritan's Purses 501c(3) status?
And -- get this -- I tried to check the flight activity for this airplane (N262SP) at Flightaware.com. The flight activity for this plane is blocked by the owner. Guess he doesn't want anyone to know where he is flying."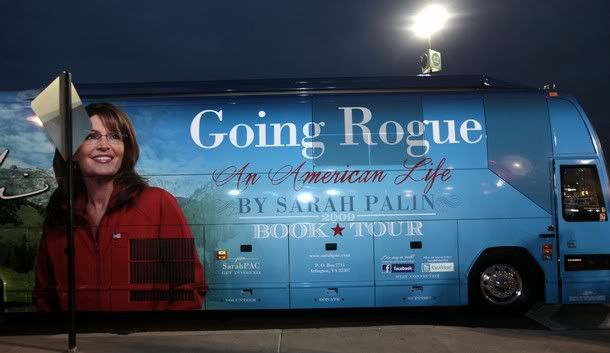 the short hauler