One Of These Days These Boots...
Crowds protest the Gaza slaughter at the US embassy ion Jakarta.
Crowds protest Gaza massacre by throwing shoes at Downing street in London.
Crowds protest Gaza murder in Beirut.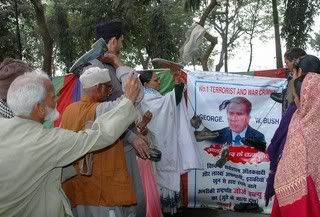 Crowds throw shoes at the mass murderer in India.
Massive shoe dump in Miami
could be protest
.
"Thousands of work boots, slippers, tennis shoes, beach sandals and even pairs of in-line skates have inexplicably materialised on a Miami freeway, disrupting traffic for hours."