You Will "Believe" Your Way Into The New World Order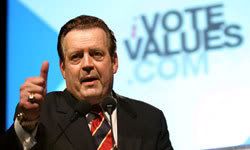 The Illuminati's Council on Foreign Relations has enlisted the services of evangelicals to marshall tens of millions of evangelical Christians in a global crusade to convert humanity to the New Global Spirituality.
Council on Foreign Relations Builds a Global Spirituality of Acquiescence
"For the first time in the almost 100-year history of the CFR, evangelical leaders have been elevated to elite status as members of the exclusive globalist secret society. Their charge is to bring over 100 million Americans who are thought to be religious conservatives into the fold of the Illuminati and into the Big Tent of the emerging Zionist Global Order.
Rick Warren, called "America's Pastor" by the Illuminist-controlled media, has over 100,000 churches and pastors signed up in allegiance to his New Age Purpose-Driven Movement. Richard Land, meanwhile, is heard on over 600 radio stations and is a featured speaker at Southern Baptist conclaves."
"The CFR elite have assigned their religious stooge, Mr. Warren, the task of bringing Africa and many of the world's Muslims into the fold of Illuminism. Warren was recently trained by the CFR's neo-con Jews in residence at the Bush White House and was sent forth to Syria where he cuddled up with that nation's Moslem brotherhood and leadership.
Warren was also chosen by Jewish Zionist billionaire Rupert Murdoch to be given a full hour of praise in a special report entitled, "Can Rick Warren Change the World?" This video documentary, aired on Murdoch's neo-con Jew network, Fox-TV News, was a puff piece lauding Warren's ministry and especially his propagandistic African crusades."
Clergy Response Teams: