Promising New Business Opportunity
Along with the rise in foreclosures while housing crashes comes a new phenomena called trashouts, where former owners leave their residence as a huge garbage dump
or worse
:
"
With the national foreclosure rate zooming and the real estate market in a two-year funk, the insurance industry fears more homeowners will see arson as a way out of their financial woes. A recent report by the industry-funded Coalition Against Insurance Fraud notes that with "untold thousands of homeowners struggling with ballooning subprime mortgage payments, fraud fighters are watching closely for a spike in arsons by desperate homeowners who can no longer afford their home payments."
It's probably understandable why home owners who are forced out of their investment want to destroy the damned house. Sort of a "If I can't have it then no one will" attitude. But it's leaving a huge headache while everybody tries to stick the problem to everyone else. It's the
talk of the trade
:
"
We just estimated a trashout yesterday where we're going to have to drain the pool and the stench from it when you enter the backyard is overwhelming. Then, of course there are mosquitoes all over the top and it's been sitting so long without chemicals that it's green on top and murky black on the bottom. We've already had to refuse one pool because of it's really creepy condition and I'm not so sure about this one either. [Just hope we don't find the previous homeowner at the bottom when we drain it.]
"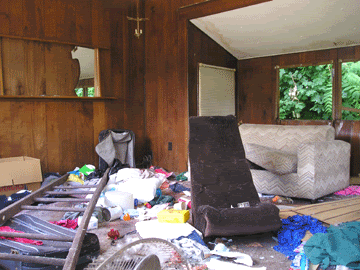 Fortunately new businesses have sprung up recently to handle the problem, which shows you right there how widespread it is.
Hardly anybody realizes that there have always been services that contract to come in after bad things happen to clean places up. The police don't usually do that and
hire services
to clean up those meth labs, or messy gunshots or people who die and aren't found for awhile. But trashed homes seem to be epidemic now and
entrepreneurs
are
coming
out of the woodwork, so to speak.