Cal Fires An Osama Plot
7/11/2003
- "
The FBI alerted law enforcement agencies last month that an al-Qaeda terrorist now in detention had talked of masterminding a plot to set a series of devastating forest fires around the western United States
."
Right.
Here's a much more plausible arson plot.
Back in 2003, my wife and I took a road trip around western states and were coming back home to the west side of the Cascades in Oregon. We like to stay at a campground on the Metolius River in the mountains outside of Sisters the night before we drive home. We heard that there was forest fire very near there but went to camp anyway. The next morning we left in a hurry because the fire had exploded and there were actually ashes falling all around us and a lot of smoke. The road across the mountains was closed and we had to drive 200 miles north to Mt. Hood to get over to the other side.
These two conflagrations that began on August 19, the Bear Butte Fire and the Booth Fire, which later merged to be known as the B&B Fire, started under very suspicious circumstances. For 11 days prior the weather had been absolutely clear and cloud free. No thunderstorms, no lightning. Here is a picture of one of them, look at the sky to see what it was like for 11 days -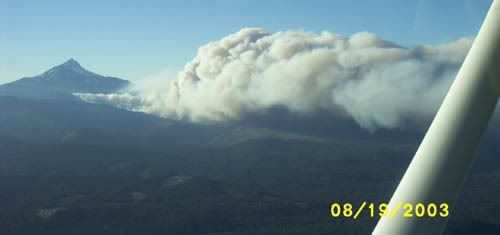 The two fires started at the same time in three places. Near one of them a truck had gone off the road and cops had detained a couple of guys but let them go. That's all I know about that - whether they were pressured or not is unknown.
The official story of how the fires started was that lightning two weeks before had started fires in duff and smoldered all that time. Wound up as a 90,000 acre burn.
The next day Bush flew into Oregon on an arranged trip and gave a speech at the town of Redmond, just up the road. The topic?
Fire prevention by thinning forests of trees and underbrush
. You know - clear cutting.
They sure do like their backdrops.