"People Should Know When They Are Conquered" Quintus-"Gladiator"
US military prepares Fallujah-style bloodbath in Iraqi city of Baqubah
"A huge US offensive codenamed "Operation Arrowhead Ripper" is underway in the Iraqi city of Baqubah, as part of extensive American operations aimed at suppressing insurgent groups in Baghdad and areas to the north and south of the capital. US troops, backed by armoured vehicles, artillery, helicopter gunships and warplanes, have sealed off the city of 300,000. The action recalls the murderous November 2004 assault on Fallujah in which much of the population fled and large sections of the town were levelled."
It's necessary to remember just what the occupiers did to the city of Fallujah and it's inhabitants to understand what they're about to do again.
"Although studiously ignored by the mainstream news media, last month came reports that the U.S. used napalm and chemical weapons in its assault upon the city of Fallujah. The assault of November 2004 resulted in the near-total destruction of the city, as well as the deaths of thousands of non-insurgent Iraqi civilians." Fallujah: Dresden in Iraq
"During our stay in Fallujah, American snipers controlled a part of the city, which we called the 'ghost area'. Everything that moved became a target and even ambulances weren't spared." A young Iraqi doctor testifies
"Powerful new evidence emerged yesterday that the United States dropped massive quantities of white phosphorus on the Iraqi city of Fallujah during the attack on the city in November 2004, killing insurgents and civilians with the appalling burns that are the signature of this weapon.
Ever since the assault, which went unreported by any Western journalists, rumours have swirled that the Americans used chemical weapons on the city." US forces 'used chemical weapons'
"Burhan Fasa'a, a freelance cameraman working for the Lebanese Broadcasting Corporation (LBC), witnessed the first eight days of the fighting. "I saw cluster bombs everywhere and so many bodies that were burnt, dead with no bullets in them," he said. "So they definitely used fire weapons, especially in Jolan district." 'I treated people who had their skin melted'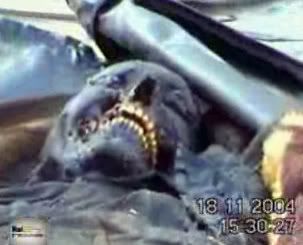 "A rain of fire fell on the city, the people struck by this multi-coloured substance started to burn, we found people dead with strange wounds, the bodies burned but the clothes intact "– Mohamad Tareq, a Fallujah resident