Fruit Not Falling Far From Tree
Dr. Laura son linked to lurid Web page
"
The soldier son of talk radio relationship counselor Laura Schlessinger is under investigation for a graphic personal Web page that one Army official has called "repulsive." The MySpace page, publicly available until Friday when it disappeared from the Internet, included cartoon depictions of rape, murder, torture and child molestation; photographs of soldiers with guns in their mouths; a photograph of a bound and blindfolded detainee captioned "My Sweet Little Habib"; accounts of illicit drug use; and a blog entry headlined by a series of obscenities and racial epithets."
This fine, upstanding gentleman epitomizes what sick shitbags up the chain of command think is a useful tool. This gentleman perverts the very idea of being in the armed forces charged with defence of the United States. He's a poisonous disgrace, much like his hypocritical harpy of a mother, who dispenses morality as if she never liked to pose for porno shots.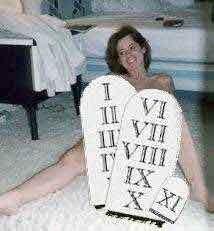 By the way, Deryk Schlessinger turns out to be the guy videotaped at the republican convention in NY roughing up protesters and
kicking one as she lay on the floor
.
"
Laura Schlessinger's appearance in Utah last week included a visit with Army families at Fort Douglas. In an interview with The Tribune, she said, "We raised our son to be a warrior
."