Persians Were Meanies, Really
Well, it didn't take long for the freed British sailors and marines to understand that they had to claim the
Iranians were swarthy beasts
after all:
"
ROYAL MARINE BASE CHIVENOR, England - British sailors and marines held for nearly two weeks in Iran were blindfolded, bound and threatened with prison if they did not say they had strayed into Iranian waters, a Royal Navy lieutenant who was among the captives said Friday. Lt. Felix Carman, safely home with his 14 colleagues, said the crew faced harsh interrogation by their Iranian captors and slept in stone cells on piles of blankets. Unable to see and kept isolated, they heard weapons cocking."
Et cetera. I followed the events as they unfolded when the Brits were released and I seem to recall the well wishers present at the airport were quite disappointed when they arrived. Some stories even speculated that their homecoming was worse for them than being in Iranian hands, but they seem to have disappeared. The soldiers were whisked away before they had any opportunity to speak to anyone, apparently to be 'debriefed', meaning they had to get their stories straight and make sure the Iranians were to be seen as thugs.
Two questions beg to be answered about this story. Both involve our capacity to be fooled.
Are we supposed to believe the Iranians, knowing full well the military threat surrounding them, would take the chance and be so stupid to send a fleet of their gunboats well outside their territorial waters to abduct British soldiers at gunpoint? And are we supposed to believe that they would threaten, manhandle and abuse those arrested soldiers knowing full well that they might be released to tell their tale of mistreatment?
Of course that's not the story that the soldiers told during their arrest. They claimed that they indeed were in
Iranian
territory, and that they were treated
quite well
. Don't expect any of those guys to face charges for not following the name, rank and serial number routine. If they claimed at their trial that they were only telling the truth while in captivity it would make all this propaganda seem rather foolish, eh wot?
update -
SOTT
has a very good take on that stiff presentation where the soldiers read from prepared military memos. If you take the statements at face value, you'd come away from them thinking that in captivity they were blindfolded, shackled, dragged to frequent interrogation and forced to stay sleepless and frightened in cramped solitary confinement for 12 days.
Now, do you believe that prepared military statement or your own lying eyes?
DAY 5
DAY 7
DAY 11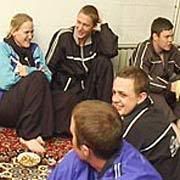 DAY 12