Proof of Ohio Election Fraud Kept From The Shredder
Wayne Madsen
notes that the heavily tampered-with ballots from 2004 were saved by a lawsuit:
"
Pursuant to a federal law that permits the destruction of ballots, including absentee ballots, 22 months after a federal election, ballots from the 2004 Ohio election were scheduled to be destroyed on Sept. 2, but the intervention of Columbus-based attorney Cliff Arnebeck and the New York-based Center for Constitutional Rights with the U.S. Court in Columbus resulted in a protective order being issued for ballots and voting records in all 88 Ohio counties. This decision upset the corrupt Ohio Republican Party and its gubernatorial standard bearer Kenneth Blackwell, the Secretary of State who helped engineer the 2004 electoral vote fraud coup in his state, who wanted to begin the document shredding process in Sept. 2."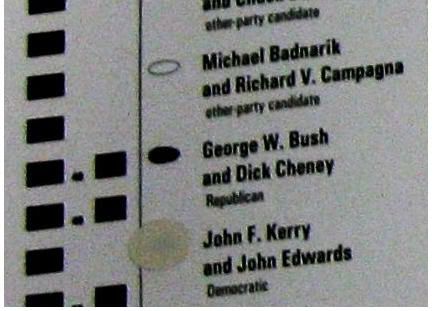 Madsen seems to think that the democrats will prevail this november, and that John Conyers will ascend to the the chairmanship of the house judiciary committee, so all the ballots will be used as evidence in upcoming impeachment proceedings. The last two presidential cycles were flat out stolen by miserable scum would-be-tyrants, how he believes that this year will be any different is beyond me. I'll make a prediction - if the manipulators know that their shenanigans can't carry the day, we'll be on the receiving end of an October Surprise that will obviate any election.