NATO Murders Civilians And Terrorizes A City Of Over A Million
To save them, of course.
Rare daytime NATO airstrikes pound Tripoli
"
TRIPOLI, Libya — Low-flying NATO military aircraft unleashed a ferocious series of more than 30 daytime airstrikes on Tripoli, rattling the Libyan capital Tuesday and sending plumes of smoke billowing above leader Moammar Gadhafi's compound.
Journalists on the ground counted at least 31 strikes by late afternoon local time, NBC News reported.
Libyan television said several structures in the Gadhafi compound were badly damaged. NBC confirmed Gadhafi's compound had been hit, and reported that the military offered to take reporters to the scene to survey the damage. As bombs were still falling in the area, many declined the invitation.
Daylight NATO raids have been rare and signal an intensification of the alliance bid to drive Gadhafi from power.
There were no immediate reports about casualties
."
Of course there won't be any reports in the western media about slaughter on the ground, an absolutely guaranteed outcome of air strikes on population centers. Any claim by Libyans of civilian casualties is
summarily ridiculed
by the CIA infested MSM, because that's their job - to whitewash naked aggression and wanton murder, especially as this transparent agenda has to ramp up it's viciousness to achieve it's objectives. And anybody with a clear conscience knows exactly what those objectives are, and they sure ain't about protecting civilians.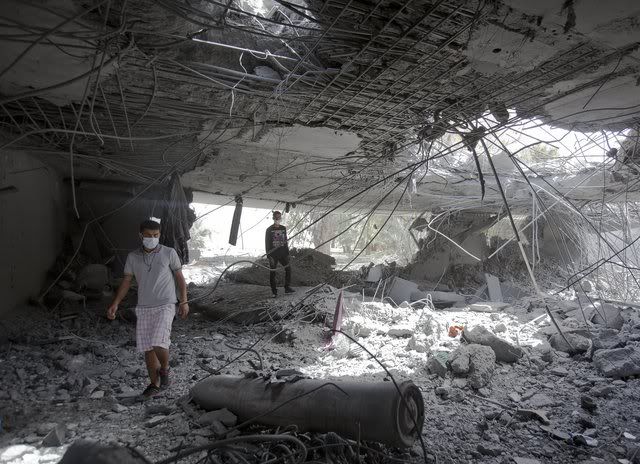 looking for body parts in Tripoli
Saving Libyans means destroying their TV
Saving Libyans means maiming children and damaging hospitals