Fuck You Yahoo And The Horse You Rode In On
Don't worry, be happy, rubes.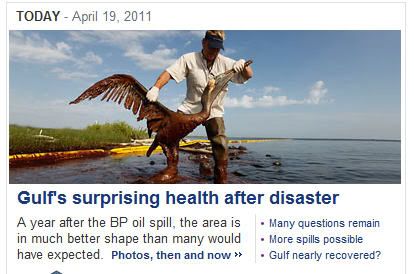 Baby Dolphins Found Dead on Gulf Coast
"A tide of dead infant dolphins has washed ashore along a 100-mile stretch of the Alabama and Mississippi coastlines in the past two weeks, and marine experts today said they believe last summer's Gulf oil spill may be to blame."
"Oil Spill Crews Suffer Mystery Illnesses" — We are seeing more and more people who are desperately ill
Residents Say Sea Turtles Rot on Beaches of the Gulf
Spate of Greenland whale deaths a worrying puzzle
Scientist says Gulf floor still oily, dead
"A University of Georgia scientist has gone public with video and slides showing how oil from the BP spill remains stuck on the bottom of the Gulf of Mexico. The images demonstrate that the oil isn't degrading as hoped and has decimated life on parts of the sea floor."
Emails expose BP's efforts to control research into impact of Gulf oil disaster