Xmas For The Palestinians
Israelis invent interesting crime to charge protest organizer.
Bil'in protest leader indicted over spent tear gas canisters
"Bethlehem – Ma'an – Israeli prosecutors filed an indictment in a military court against Abdullah Abu Rahmah on Monday, a leader of popular demonstrations against the Israeli separation wall in the West Bank village of Bil'in.The charges against Abu Rahmah included incitement, stone throwing and arms possession, according to his attorney, Gaby Lasky. The arms referred to in the indictment were spent tear gas canisters fired by the Israeli army at protesters over four years of weekly demonstrations."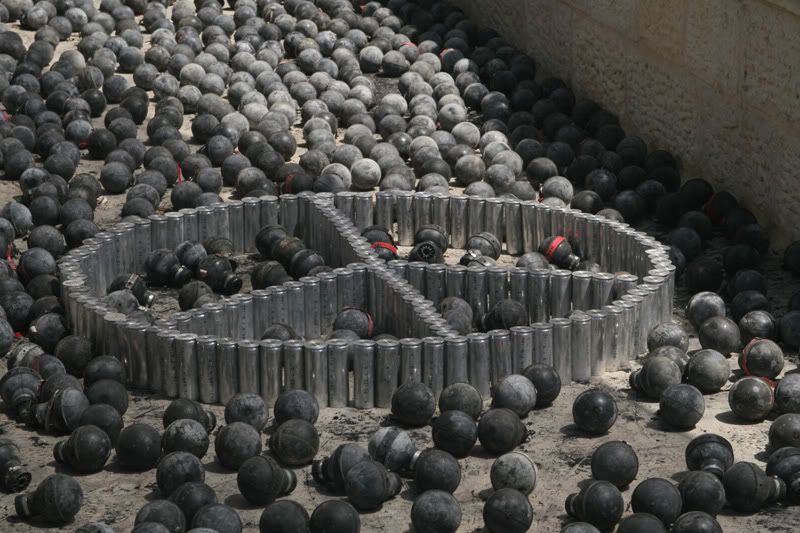 "The army shoots at unarmed demonstrators, and when they try to show the world the violence used against them by collecting presenting the remnants – they are persecuted and prosecuted," Lasky said in a statement.
"What's next? Charging protesters money for the bullets shot at them?"
Abu Rahmah is the coordinator of Bil'in's Popular Committee, the body that organizes weekly demonstrations against the wall, which Israel is building across the village's land."
"Anti-occupation campaigners say the arrest was part of a wave of repression aimed at popular resistance movements like the Friday demonstrations against the wall and illegal settlements."