Fascists Sieze On Ever-Changing Detroit Flight Stunt
Airlines: New rules keep passengers in seats
"WASHINGTON – Some airlines were telling passengers on Saturday that new government security regulations prohibit them from leaving their seats beginning an hour before landing
The regulations are a response to a suspected terrorism incident on Christmas Day.
Air Canada said in a statement that new rules imposed by the Transportation Security Administration limit on-board activities by passengers and crew in U.S. airspace. The airline said that during the final hour of flight passengers must remain seated. They won't be allowed access to carryon baggage or to have any items on their laps.
Flight attendants on some domestic flights are informing passengers of similar rules. Passengers on a flight from New York to Tampa Saturday morning were also told they must remain in their seats and couldn't have items in their laps, including laptops and pillows.
The TSA issued a security directive for U.S.-bound flights from overseas, according to a transportation security official who spoke on condition of anonymity because the official was not authorized to speak publicly.
The official said passengers traveling internationally could see increased security screening at gates and when they check their bags, as well as additional measures on flights such as stowing carryons and personal items before the plane lands.
Homeland Security Secretary Janet Napolitano said in a statement Saturday that passengers flying to the U.S. from overseas may notice extra security, but she said the measures "are designed to be unpredictable, so passengers should not expect to see the same thing everywhere."
Next up, the body cavity procedure: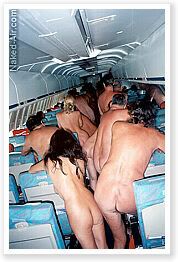 International Flights: In Essence, Flying Jails