That Picture Of The Live Neda May Not Be The Dead Neda
What else about that murder may not be correct?

Here is a woman's testimonial, make up your own mind.
HOW THE WRONG NEDA PHOTO BECAME IRAN'S FACE OF FREEDOM
"On the evening of June 21, 2009, I, Dr. Amy L. Beam, was watching the unfolding events of Iran simultaneously at my computer and on Al Jazeera and CNN TV. I am in Europe. The TV newscasters kept repeating that this had become a Twitter Revolution in Iran. I've never before used Twitter to search for news, but this prompted me to. I logged onto twitter.com and searched for "Iran demonstrations". I saw the top search term was #iranelections so I searched for this and kept updating my search every minute. Twitters were pouring.
This is how I saw the Twitter posting that had a link to the youtube video of Neda being shot in Iran. It had just been uploaded. About 120 people had viewed it within several minutes. I was curious to know the dead woman's name so I emailed the person who uploaded the video. He thought the name was Neda Soltani. He explained that this video had been sent to him, outside of Iran, by the doctor who had been at Neda's side as she bled to death. The doctor's friend shot the video with his cell phone. The doctor also sent an explanatory note.
So I went immediately to Facebook and searched for Neda Soltani. A number of Neda profiles came up along with photos. Some had last names similar to Soltani. I decided I would try to eliminate the Neda's who were still alive, so I wrote to Neda Soltani, the beautiful Iranian woman wearing a patterned headscarf whose photo has become famous..."
Of course to my conspiratorial bent, there could be a lot more wrong about that murder in Tehran than just her picture. As usual the best thing enquiring minds can do is ask qui bono. In this case the poor woman, whose name so fortuitously for the demonstrators translates as "voice", literally became the poster child of rioting Iranians, as marchers immediateIy carried placards of the bloodied face with the words "This Is The Face Of Iranian Democracy" underneath it, in english. Now, when demonstrators in countries that don't speak english carry signs in english, just who is the target audience?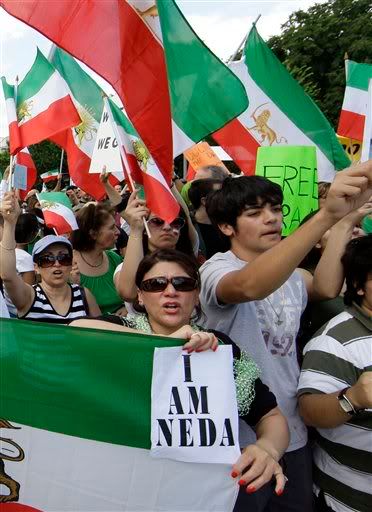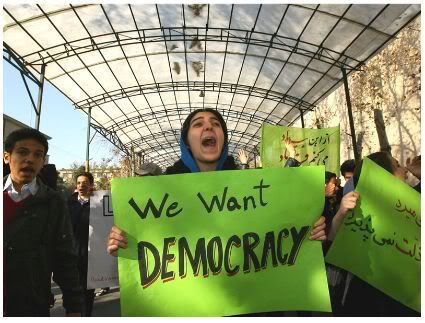 As for the infamous video I have two questions. I have no doubt that concerned bystanders' first reaction would be to help her, but absolutely no one in the clip seems to be worried about also taking a hit. And, why was this guy so concerned where the camera was?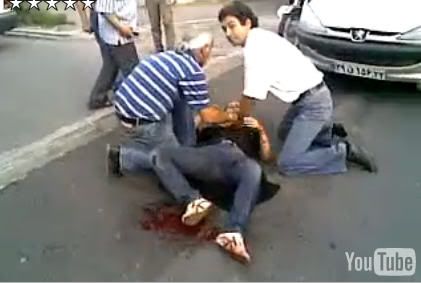 Iranian envoy: CIA involved in Neda's shooting?
"MEXICO CITY, Mexico (CNN) -- The United States may have been behind the killing of Neda Agha-Soltan, the 26-year-old Iranian woman whose fatal videotaped shooting Saturday made her a symbol of opposition to the June 12 presidential election results, the country's ambassador to Mexico said Thursday.
"This death of Neda is very suspicious," Ambassador Mohammad Hassan Ghadiri said. "My question is, how is it that this Miss Neda is shot from behind, got shot in front of several cameras, and is shot in an area where no significant demonstration was behind held?"
He suggested that the CIA or another intelligence service may have been responsible.
"Well, if the CIA wants to kill some people and attribute that to the government elements, then choosing women is an appropriate choice, because the death of a woman draws more sympathy," Ghadiri said."
"Consider this scenario:
A CIA-trained sharpshooter takes position on a rooftop in Tehran. His contact on the street below, waiting with a camera, calls. "She just got out of the car. A perfect target."
He takes aim. Shoots. He disappears.
On the street, the contact takes the video of the young woman, her face visible and unscarred, helped by people on the street around her, bleeding to death.
Within an hour, the video arrives to an Iranian contact in the Netherlands, to the BBC, to the Voice of America. It becomes part of a much bigger story."

Note the guy in a white cap on the cell phone with the hand over his mouth.
And where did this video come from,
concentrating on the woman about to be shot?