Operation Stabilize Drug Profits A Roaring Success
Cheap, plentiful opiates from Afghanistan and you've got a stranglehold on the market. Protected by american military muscle and well oiled by american tax dollars, using established smuggling routes from Tajikistan to Kosovo, and life is sweet.
Heroin prices
"
American wholesale prices remain at around twice the level in Western Europe. The UN estimates that annual opiate production—almost all of which is from Afghanistan—jumped to about 8,900 tonnes in 2007, having been flat at around 4,500 tonnes over the previous decade. Seizures of heroin rose to 65 tonnes in 2007 but were still only a small fraction of global production."

U.S.-built bridge is windfall — for illegal Afghan drug trade
"NIZHNY PANJ, Tajikistan — In August 2007, the presidents of Afghanistan and Tajikistan walked side by side with the U.S. commerce secretary across a new $37 million concrete bridge that the Army Corps of Engineers designed to link two of Central Asia's poorest countries.
Dressed in a gray suit with an American flag pin in his lapel, then-Commerce Secretary Carlos Gutierrez said the modest two-lane span that U.S. taxpayers paid for would be "a critical transit route for trade and commerce" between Afghanistan and Tajikistan.
Today, the bridge across the muddy waters of the Panj River is carrying much more than vegetables and timber: It's paved the way for drug traffickers to transport larger loads of Afghan heroin and opium to Central Asia and beyond to Russia and Western Europe."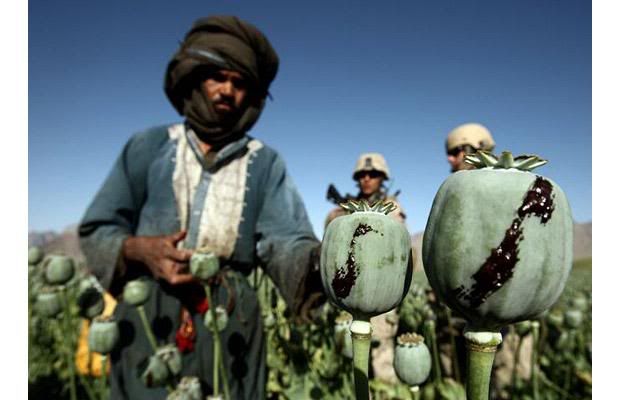 Afghan farmer with 2 US soldiers dressed in poppy camo