Fascist Vacation Packages
Revel in other peoples' misery and subjugation.
The Ultimate Mission To Israel
"
Mission Highlights:*Briefings by Mossad officials and commanders of the Shin Bet.
*Briefing by officers in the IDF Intelligence and Operations branches.
*Inside tour of the IAF unit who carries out targeted killings.
*Live exhibition of penetration raids in Arab territory.
*Observe a trial of Hamas terrorists in an IDF military court.
*First hand tours of the Lebanese front-line military positions and the Gaza border check-points.
*Inside tour of the controversial Security Fence and secret intelligence bases.
*Meeting Israel's Arab agents who infiltrate the terrorist groups and provide real-time intelligence."
Greetings from Guantanamo Bay ... and the sickest souvenir shop in the world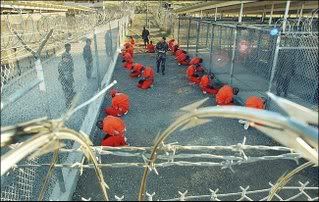 "
The sands are white, the sea laps gently and crowds of bronzed Americans laze in the Caribbean sunshine.
They have a cinema, a golf course and, naturally, a gift shop stocked with mugs, jaunty T-shirts and racks of postcards showing perfect sunsets and bright green iguanas.
Only the barbed wire decoration, a recurring motif, hints at anything wrong.
Welcome to "Taliban Towers" at Guantanamo Bay, the most ghoulishly distasteful tourist destination on the planet.
As these astonishing mementoes show, the US authorities are promoting the world's most notorious prison camp as a cheap hideaway for American sunseekers, a revelation that has drawn international anger and condemnation.
Just yards from the shelves of specially branded mugs and cuddly toys, nearly 300 "enemy combatants" lie sweltering in a waking nightmare.
It is six years since foreign prisoners, many captured in Afghanistan, were first taken to this US-occupied corner of Cuba. Yet even now, no charges have been brought against them.
While the detainees lie incarcerated, visitors can windsurf, take boat trips and go fishing for grouper, tuna, red snapper and swordfish."