Funny, Isn't It, How Everywhere The US Goes, Drug Smuggling Miraculously Proliferates
"JALALABAD, Afghanistan
February 15, 2001
U.N. drug control officers said the Taliban religious militia has nearly wiped out opium production in Afghanistan -- once the world's largest producer -- since banning poppy cultivation last summer.
A 12-member team from the U.N. Drug Control Program spent two weeks searching most of the nation's largest opium-producing areas and found so few poppies that they do not expect any opium to come out of Afghanistan this year
."
Afghanistan, Opium and the Taliban
December 2, 2006
"
Opium production in Afghanistan, which provides more than 90 percent of the world's heroin, broke all records in 2006, reaching a historic high despite ongoing U.S.-sponsored eradication efforts, the Bush administration reported yesterday
."
Afghanistan Opium Crop Sets Record
"
The Vesti report said drugs from Afghanistan are flown by US transport aircraft to bases Ganci in Kyrgyzstan and Incirlik in Turkey. Russian journalist Arkadi Dubnov quotes Afghan sources as saying that "85 per cent of all drugs produced in southern and southeastern provinces are shipped abroad by US aviation
."
Opium for the Masses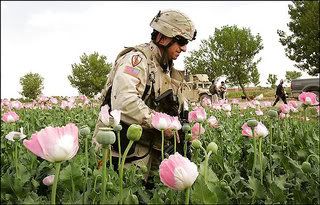 monitoring the harvest
May 23, 2007
"
Farmers in southern Iraq have started to grow opium poppies in their fields for the first time, sparking fears that Iraq might become a serious drugs producer along the lines of Afghanistan
."
Opium: Iraq's deadly new export
October 23, 2007
"
Presidents Felipe Calderon and George W. Bush are preparing to launched a billion dollar drug interdiction project that the Mexican press has named "Plan Mexico". The controversial plan is being compared to the failed "Plan Columbia" that actually increased the amount of cocaine, heroin and marijuana entering the United States from the nation of Columbia. "Plan Mexico" is being launched shortly after a Central Intelligence Agency (CIA) connected jet plane crashed outside Cancun, Mexico with 4 tons of cocaine
.
"Plan Mexico" and the CIA
Ah yes, that CIA rendition jet: