Attack Of The Flying Manhole Covers
Manhole Explosion Closes 13 Mile Road Near John R.
"MADISON HEIGHTS, Mich. -- An explosion closed the westbound lane of 13 Mile Road between John R. Road and Stephenson Highway due to a manhole cover that blew up in the area, according to Madison Heights police."
Luoteis-Venäjällä räjähti kaasuputki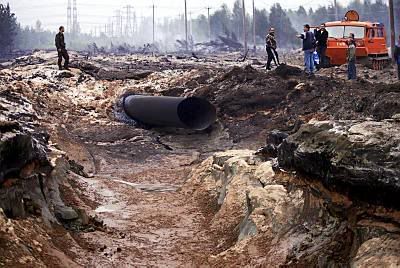 "A quiet residential pocket of west St. James was shaken by an explosion in sewer lines on Monday evening."
Manhole spews oily liquid into garden
"A manhole cover burst spewing a fountain of oily liquid all over a man's garden in Selmeston village.
Ian Duffill, a retired boat builder, was at home, in The Street, when he heard a thunderous roar."
Manhole cover blown off in Orem
"A manhole cover at the intersection of 400 West and Center Street in Orem shot off its base at approximately 4:30 p.m. Friday."
Power restored in San Francisco
"Every time workers attempted to close those breakers to restore service, it caused voltage fluctuations - that, in turn, caused a transformer to fail in a manhole under 560 Mission St. Witnesses reported hearing a blast shortly before 2 p.m. and then seeing flames licking up through the manhole grate."
Blast knocks out power in Aurora
"About 88 homes and businesses in downtown Aurora went without electricity for most of Monday following an underground explosion that blew manhole covers 15 feet into the air and injured a firefighter."
And of course that thingy in New York a week ago.