Bald Eagles No Longer Endangered, U.S. Says
National symbol makes a comeback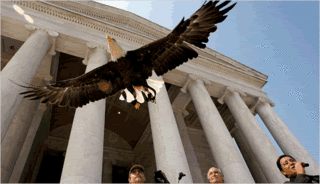 Challenger, a bald eagle, was released today during an event with Interior Secretary Dirk Kempthorne, center, marking the removal of the bald eagle from the endangered species list.
"June 28 — Bald eagles, whose numbers dwindled to historic lows in the early 1960s, are once again flourishing and no longer need the protections of the Endangered Species Act, Interior Secretary Dirk Kempthorne announced today."

Vice President Dick Cheney takes advantage of the newly designated species and bags Challenger on the second shot.