The Repug Rent-a-Riot
With the Diebold selection process coming up in a week I thought it was appropriate to remember an event from the stolen 2000 election. This is the thuggish face of the fascists which
helped usher in
our national nightmare.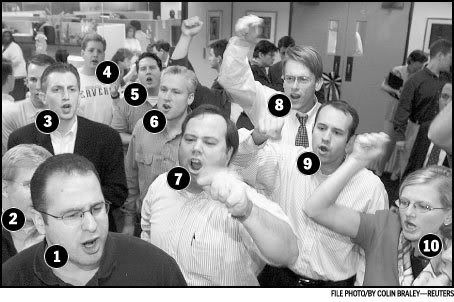 On November 22nd in county offices in Miami, a bunch of people engaged in a violent demonstration to stop the vote counting. It worked.
It turns out that the demonstration was an organized republican demonstration of party loyalists who were called to Miami (with all expenses paid) to incite violence and disrupt the recounts in Miami, where the democrats are in the majority.
The New York Times reported the event like this:
"
Further details are emerging about the riot Wednesday that preceded the Miami-Dade County election commission's decision to give up recounting the votes in the presidential election. As election workers sat counting votes, a mob screamed outside, pounded on furniture, tried to force its way into the building, surrounded a Democratic Party official, knocked two television cameramen to the ground, and kicked and punched several people, including a Democratic spokesman as he attempted to hold a news conference
."
In fact the violence was actually incited by New York Representative John Sweeney, who was involved in the protest. The repugs pretended to be locals, but this is who they really were:
1. Tom Pyle, policy analyst, office of House Majority Whip Tom DeLay (R-Tex.).
2. Garry Malphrus, majority chief counsel and staff director, House Judiciary subcommittee on criminal justice.
3. Rory Cooper, political division staff member at the National Republican Congressional Committee.
4. Kevin Smith, former House Republican conference analyst and more recently of Voter.com.
5. Steven Brophy, former aide to Sen. Fred D. Thompson (R-Tenn.), now working at the consulting firm KPMG.
6. Matt Schlapp, former chief of staff for Rep. Todd Tiahrt (R-Kan.), now on the Bush campaign staff in Austin.
7. Roger Morse, aide to Rep. Van Hilleary (R-Tenn.).
8. Duane Gibson, aide to Chairman Don Young (R-Alaska) of the House Resources Committee.
9. Chuck Royal, legislative assistant to Rep. Jim DeMint (R-S.C.).
10. Layna McConkey, former legislative assistant to former Rep. Jim Ross Lightfoot (R-Iowa), now at Steelman Health Strategies.