Pastor Ted To Get Treatment For Gay Cooties
Disgraced hypocrite pastor Ted Haggard is going to start treatment towards "
spiritual restoration"
:
"After tumbling from the pinnacle of the American evangelical movement amid allegations he snorted meth and cavorted with a male prostitute, Haggard has agreed to a rehabilitation process that could last three to five years
."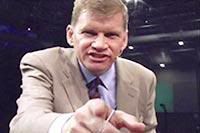 I think the guy is going to do very well with this.
The process includes "laying on of hands."
-------
In a related story, the famed
Jesus Camp
is being shut down. The documentary about the brainwashing center was in theaters this past summer and featured scenes with the aforementioned Pastor Ted.