Puttin' On Your Anti Face
How to hide from face-detection technology
"If you take Adam Harvey's advice, here's what you might wanna wear to a party this weekend: A funny hat, asymmetrical glasses, a tuft of hair that dangles off your nose bridge and, most likely, a black-and-white triangle taped to your cheekbone. Optional: Cubic makeup patterns all around your eyes.
All of these otherworldly fashion accessories – which could leave a person looking kind of like an opulent villain from "The Hunger Games" - have a singular goal: to stop your face from being detected by cameras and computers. Called CV Dazzle (short for "computer vision dazzle;" more on the name later), Harvey's project is a provocative and largely theoretical response to the rise of surveillance cameras on street corners and face-detecting technology that's been incorporated into social networking sites like Facebook and Flickr.
If you employ these techniques, Harvey, 30, hopes computers won't even know you have a face:
I don't want to be unrealistic about it. It's a pretty conceptual project but it seems to touch on a subject that people are still trying to figure out, which is how to adapt to living in surveillance societies, where not only are you being watched by government surveillance but by citizen surveillance and social-media-type surveillance.
The face appendages aim to trick face detection software by obscuring computer-readable parts of your face. According to Harvey, the key part of the face that computers can read is the "nose bridge," or the area between the eyes. If you can obscure that, you have a good chance of tricking computers into thinking you don't have a face, he said. Another technique is to create an "anti-face," which is less terrifying than it sounds since it just means inverting your face's color scheme. So the black-and-white triangles on the cheeks aim to achieve this effect."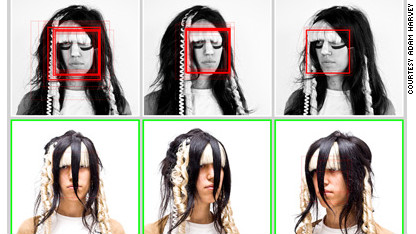 Daryl Hannah in Blade Runner