What You Might Do Without Wars For Israel And Trillions Handed To Banksters
China to create largest mega city in the world with 42 million people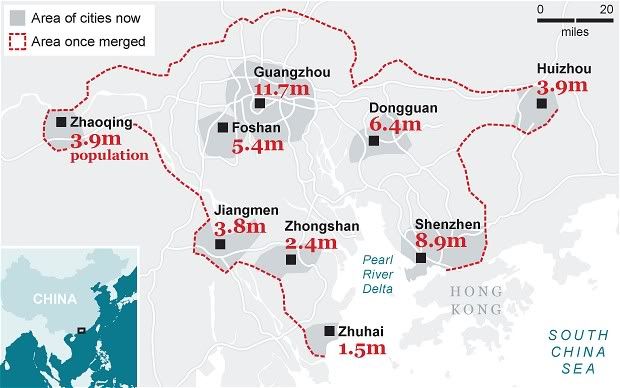 "China is planning to create the world's biggest mega city by merging nine cities to create a metropolis twice the size of Wales with a population of 42 million.
City planners in south China have laid out an ambitious plan to merge together the nine cities that lie around the Pearl River Delta.
The "Turn The Pearl River Delta Into One" scheme will create a 16,000 sq mile urban area that is 26 times larger geographically than Greater London, or twice the size of Wales.
The new mega-city will cover a large part of China's manufacturing heartland, stretching from Guangzhou to Shenzhen and including Foshan, Dongguan, Zhongshan, Zhuhai, Jiangmen, Huizhou and Zhaoqing. Together, they account for nearly a tenth of the Chinese economy.
Over the next six years, around 150 major infrastructure projects will mesh the transport, energy, water and telecommunications networks of the nine cities together, at a cost of some 2 trillion yuan (£190 billion). An express rail line will also connect the hub with nearby Hong Kong.
"The idea is that when the cities are integrated, the residents can travel around freely and use the health care and other facilities in the different areas," said Ma Xiangming, the chief planner at the Guangdong Rural and Urban Planning Institute and a senior consultant on the project."
Did China Just Invent the 21st Century's Coolest Technology?
"Scientists in China say they have successfully produced a model Maglev train that can travel as fast as a plane, according to a report in a Chinese newspaper.
Shuai Bin, a vice dean at the country's Southwest Jiaotong University, told the Global Times that the train would allow passengers to make the trip from Beijing to Guangzhou in under two hours. He said the vacuum magnetic suspension train model reached speeds of between 600 and 1,200 kilometers per hour. By comparison, a flight covering the same distance takes three hours.
If the claim is true, that would mean the Chinese have topped the speed record set by the highest recorded speed of a Maglev train - 581 kilometers per hour - in Japan."
Meanwhile, In The US...
Detroit cuts funding for homeless warming centers
"Budget cuts carried out on the quiet have prevented emergency warming centers in Detroit from opening their doors all winter, leaving thousands of homeless and poor residents in the bitter cold."