Apparently The Stupids Are Still In Charge
Senate Votes to Double Fines, Jail Time for Pot Brownies
"
Last night the United States Senate voted to double the penalties for the nation's newest existential threat: brownies made with marijuana!
The Senate unanimously passed Dianne Feinstein (D-CA)'s
"Saving Kids from Dangerous Drugs Act of 2009″ (S. 258)
that targets pot brownies and other marijuana edibles preferred by some medical marijuana patients. The bill next moves to the House; if it passes that chamber, anyone making pot brownies or similar products could be subject to double the fines and jail time for regular marijuana.
This bill's passage marks a step backwards for Congress, which this week also passed the Fair Sentencing Act that
reduced the sentencing disparities between cocaine and crack
from 100:1 to 18:1. Now we have a new disparity: pot brownies and other marijuana edibles are now treated as something twice as bad as just distributing marijuana."
Police destroy marijuana plants worth £1.1billion in California farm raids
"
Marijuana plants worth £1.1billion have been destroyed on farms in California with links to Mexican drug traffickers.
More than 270 acres of crops were found during police raids involving 450 officers in the foothills of the Sierra Nevada Mountains.
Ninety-seven people have been arrested over the past three weeks, most of them Mexican nationals believed to have ties with Mexican drug barons. It is believed marijuana is increasingly being grown in the U.S. by Mexican cartels rather than smuggling it there.
Madera County Sheriff John Anderson said: 'The mission is a collective fight against organised crime.'
Notice how it's morphed from 'combating a public health menace' to 'fighting against organized crime'? And we better watch out for those brown skinned criminals?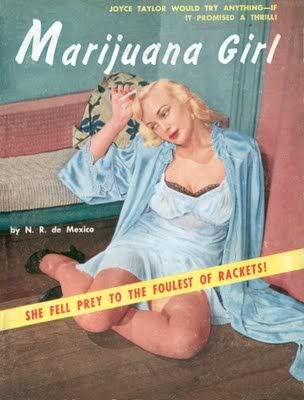 white women are still in danger
added -
Cannabinoids Kill Cancer and Our Government Has Known for 36 Years