Our Feudal Future
Our betters exert their exclusive, entitled imperium wherever they go, whatever they do, from disaster relief to occupying conquered lands to just going on a trip. Must be hard to live amongst the wogs.
Desperate Haitians/UN compound with WI-FI and cold beer
"
It is a tale of two cities. One has ice-cold beers, internet access, thousands of men and billions of dollars' worth of gleaming machinery, together with piles of food, blankets, generators and other aid relief from around the globe.
This is the heavily fortified US-controlled Port-au-Prince airport and neighbouring United Nations compound.
The other is the devastated city of Port-au-Prince, where the stench of death fills the air and starving people are in utter despair, still in need of the basic necessities of food, water, shelter and medical care.
Never, in more than 20 years of covering disasters, has the void between the might and power of the Westernised world and the penniless and pitiful people they have been mobilised to 'save' been so glaringly obvious to me
."
Imperial Life in the Emerald City: Inside Iraq's Green Zone
"
UNLIKE ALMOST ANYWHERE else in Baghdad, you could dine at the cafeteria in the Republican Palace for six months and never eat hummus, flatbread, or a lamb kebab. The fare was always American, often with a Southern flavor. A buffet featured grits, cornbread, and a bottomless barrel of pork: sausage for breakfast, hot dogs for lunch, pork chops for dinner. There were bacon cheeseburgers, grilled cheese-and-bacon sandwiches, and bacon omelets. Hundreds of Iraqi secretaries and translators who worked for the occupation authority had to eat in the dining hall. Most of them were Muslims, and many were offended by the presence of pork. But the American contractors running the kitchen kept serving it. The cafeteria was all about meeting American needs for high-calorie, high-fat comfort food.""The Green Zone quickly became Baghdad's "Little America." Everyone who worked in the palace lived there, either in white metal trailers or in the towering al-Rasheed. Hundreds of private contractors working for firms including Bechtel, General Electric, and Halliburton set up trailer parks there, as did legions of private security guards hired to protect the contractors. The only Iraqis allowed inside the Green Zone were those who worked for the Americans or those who could prove that they had lived there before the war."
Don't forget Bush's posse whenever he stepped foot outside Washington. Obama probably has the same army accompanying him. And like his medieval predecessors he has his
food tasters
.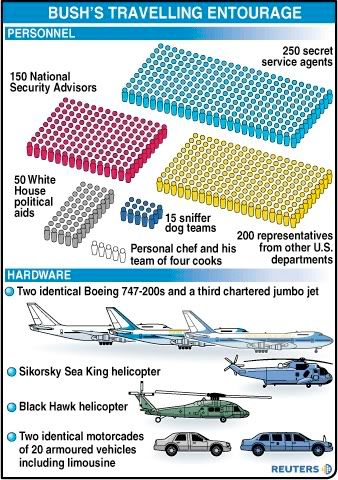 Know Your Enemy-The Oligarchs