Mossad Front Involved In Spying, 9/11, Got A Little Tip
You remember those
Dancing Israelis
, don't you?
"
Sources said the FBI alert, known as a BOLO or "Be On Lookout," was sent out at 3:31 p.m.It read:"Vehicle possibly related to New York terrorist attack. White, 2000 Chevrolet vanwith 'Urban Moving Systems' sign on back seen at Liberty State Park, Jersey City, NJ, at the time of first impact of jetliner into World Trade Center."Three individuals with van were seen celebrating after initial impact and subsequent explosion. FBI Newark Field Office requests that, if the van is located, hold for prints and detain individuals
."
The van was stopped and the men who were so jubilant about the burning skyscrapers in NY were taken into custody by the FBI.
"
Sources said the van was stopped as it headed east on Route 3, between the Hackensack River bridge and the Sheraton hotel. As a precaution, police shut down Route 3 traffic in both directions after the stop and evacuated a small roadside motel near the Sheraton."
They were then deported to Israel where they went on TV declaring "Our purpose was to document the event."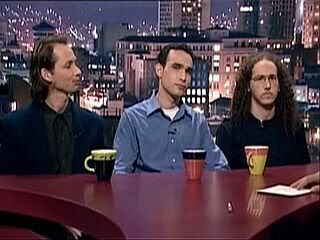 The YouTube clip of them saying this
was removed
.
But don't worry about our little Israeli buddies, who laughed and took pictures of 3000 people being murdered while they danced on top of their van.
"
The FBI seized and developed their photos, one of which shows Sivan Kurzberg flicking a cigarette lighter in front of the smouldering ruins in an apparently celebratory gesture."
Your tax dollars
apparently helped Urban Moving Systems keep the party going
back home.