Not Very Bright Thieves Pick Wrong Target
Don't rob a place filled with bikers
"ARMED with machetes and a samurai sword, two balaclava-clad bandits were confident they were about to pull off an easy sting - terrorising senior patrons and young families at a Sydney bowls club.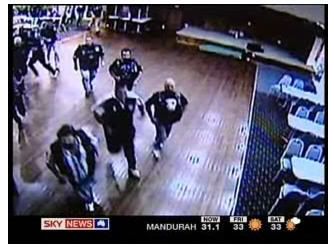 The robbers raided the club in Terrene St, Regents Park about 8.50pm on Wednesday - ordering patrons at the bar to get on the floor.
To get to the bar the desperadoes had to walk straight past a glassed-off auditorium where about 50 members of the Southern Cross Cruiser Club and their families were discussing how to celebrate their 10-year-anniversary.
Somehow the thieves failed to notice the collection of "cruiser" motorbikes parked in the club's carpark - or the 50 leather-clad bikers inside.
One of the bikers who was at the bar at the time of the attempted robbery rushed back to the sit-down to warn his crew."
watch them piss their pants here