Savior In A Spud
Jeebus in a jojo.
"A Florida pastor discovered food for the soul, and a sign from God, in an unlikely place — a potato.
Pastor Renee Brewster reluctantly started making potato salad for church but was not entirely comfortable doing it, as Sister Frankie normally makes the dish. So she asked God for a sign, MyFoxOrlando.com reports.
"I was hesitant about making the potato salad because Sister Frankie makes the potato salad at church and I said, 'Lord, if it's not for me to make potato salad then send me a sign.'"
Next she cut in half a potato and discovered it looked rotten. She only took a second look after her 10-year-old granddaughter said she saw an image of Jesus Christ on the Cross in the split potato."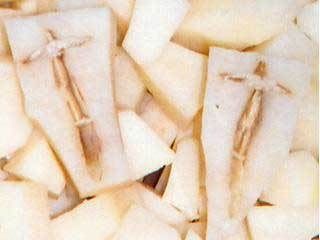 "Said Brewster: "I just want people to know God is still as real today as he was back then and he can show up anytime he gets ready."
Bonus
-
Martian - Danish connection?
Double Bonus
-
Adopt a zygote