What's Wrong With This Picture?
In the Guardian today
there's a story
ostensibly about Brit soldiers in Afghanistan maintaining their stiff upper lip while suffering a huge rate of casualties in the field. Whether by accident or perhaps even on purpose, the accompanying photo is a curious choice that really has nothing to do with the story. This is the picture with the caption: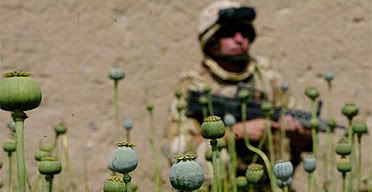 A British soldier patrols in poppy fields in Sangin, a district Helmand province, Afghanistan. Photograph: Rafiq Maqbool/AP
Hmmm. A quick check with any search engine will bring up this info:
Record opium crop in southern Afghanistan
"
Helmand province in southern Afghanistan, where some 7,000 British troops are based, is on the verge of becoming the world's biggest drugs supplier, cultivating more opium than entire countries such as Burma, Morocco, or even Colombia, the UN warned yesterday
."
I suggest that soldier is doing his job well and there's nothing wrong with this picture at all, according to the
real
agenda, which has nothing whatsoever to do with "fighting terrorists".