We Are All Hokies
Virginia Tech merchandise flies off of shelves
"
BLACKSBURG, Va., April 19 Sellers of gear bearing the Virginia Tech Hokies name or logo say sales have skyrocketed since the mass shooting at the school.Derek Thompson, who owns the Web site HokiePlanet.com, said between 400 and 500 orders for Virginia Tech shirts, hats, bracelets and other gear poured in between Monday's shooting and Wednesday afternoon -- a stark contrast to the average 5 orders a day he normally receives this time of year, The Washington Post reported Thursday
."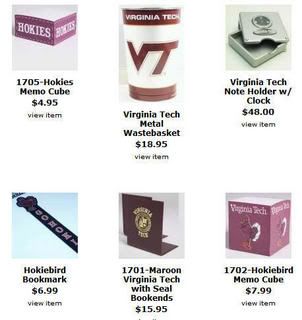 Penn State to wear V Tech colors at their Blue and White Game
What is a '
nittany
' anyway?
Scammers preying on tragedy
"Security researchers are warning people to be watchful for phishing scams and malware attacks that take advantage of this week's tragedy at Virginia Tech
."